A climate scientist with equal strengths in physical and social sciences, Kate Ricke brings an interdisciplinary punch to her dual professorship at GPS and Scripps
By Sarah Pfledderer | GPS News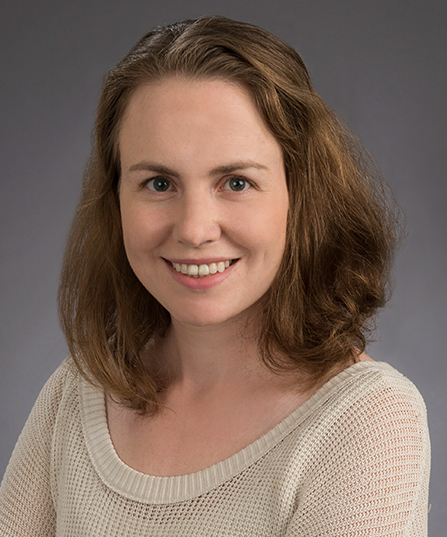 Listen to Kate Ricke explain climate geoengineering in Layman's terms—"putting stuff into the stratosphere to block sunlight"—and you get the sense that she's had to break down the science into simple terms more than once before.
Then, hear her articulate the policy implications of this practice, and you might be unsure to which discipline she belongs.
The truth is she's fluent in both forms of shoptalk. And as this ultimate go-between STEM and policy, she will be joining both UC San Diego's School of Global Policy and Strategy (GPS) and Scripps Institution of Oceanography as an assistant professor this fall.
"I've known for a long time that I wanted to mix physical and social sciences," Ricke said. "Now, I can even build some collaborative bridges."
Gaining ground in both
It was in her undergraduate studies in earth, atmosphere and planetary science at Massachusetts Institute of Technology when Ricke became enamored with understanding the real-world impacts of putting climate science into practice. After graduation she found out firsthand, when she consulted for the Environmental Protection Agency as an associate analyst and research assistant at Abt Associates.
Three years later, she had honed a thorough understanding of how environmental policy is made and implemented.
"But I missed doing research," Ricke recalled. "I realized I really like being able to do both."
This led her to Carnegie Mellon University's Ph.D. program in engineering and public policy—another turning point in her career.
"When I started graduate school, I intended to go back into consulting afterward," she said. "But I enjoyed doing academic research much more than I expected to."
On the science side, Ricke used grid-scale models of the global climate system to predict how the earth's oceans and atmosphere react when you perturb the climate through geoengineering, such as figuring which regions receive the most rainfall.
On the policy side, she integrated these scientific results with economic and decision-making models to predict their policy implications, such as figuring what conflicts could arise out of one region receiving more rainfall than another.
"It's very different than other climate policy and governance," Ricke explained of her dissertation research. "With geoengineering, you need to restrain people because a single nation or actor can cool down the entire planet. It might be good for some people but bad for others. There's not an existing, international regulation to restrict that kind of activity."
With her commitment to research solidified, the "last piece of the puzzle" for Ricke to go all-in on a career in academia was to confirm she enjoyed teaching. Leading a course on science and technology policy did her in.
"I loved it," she said of the class she taught at the Carnegie Institution for Science, where she was a postdoctoral researcher in the Department of Global Ecology.
Ricke added her real-world experience in consulting proved invaluable in the classroom—a background she anticipates will be equally helpful in instructing at GPS, where she's slated to teach Climate Change: Science and Society in the spring.
"GPS students are oriented toward working in the real-world in the terms of policymaking and policy analysis," Ricke explained. "It's good to have that perspective to prepare them to know the difference between how you think about something like policy analysis in theory and how it actually plays out in practice."
A foot in both places at UC San Diego
Ricke joins the School from a stint as research associate at the Sibley School of Mechanical and Aerospace Engineering at Cornell University. For four years prior, she was at the Carnegie Institution for Science.
"I've been developing my research approach," she said of her work since graduate school, and elaborated: "I work on models that integrate what we know about how the climate is changing, physically, with simple social science models to tease out policy relevance and potential policy mechanisms for dealing with regional heterogeneity."
Admittedly, she said, "I've got a lot of balls in the air as far as research projects right now." Which is why, from a research perspective, her dual appointment at GPS and Scripps couldn't have come at a better time.
In addition to expanding her research in geoengineering, Ricke also has a new project underway regarding the effects of climate change and human migration, meaning a look at how and where people will migrate as climate impacts worsen.
Premature findings provide "what you would expect," Ricke said. People will migrate north from equatorial regions because there is more land in that direction, she noted, and, based on physical factors, India would be the biggest source of human migrants.
The science behind this project, much like her previous research, also is grounded in theoretical modeling. As she expands her portfolio at GPS, Ricke said she hopes to find opportunities to collaborate with colleagues in more empirical, observational work, particularly through her involvements with Center for Climate Change Impacts and Adaptation at Scripps.
This could even mean rekindling projects with old research partners like Professor David Victor, with whom she co-authored her first-ever academic paper.
"We'll see how it goes," Ricke concluded. "With research, you take it as it comes and you go where it leads you—even if that means pursuing it in two disciplines."
3 questions with Assistant Professor Kate Ricke
What are the real-world impacts of your research?
I integrate tools from the physical and social sciences to analyze climate policy problems. By combining diverse techniques and drawing from a variety of disciplines, I aim to shed new light upon the policy implications of physical phenomena.
What skills or understanding do you hope students leave your class with?
Domain-specific intuition and problem-solving skills.  I think intuition is built by repeatedly exploring a core concept in multiple contexts, especially real-world applications. Once this intuition is robust, it becomes trivial for students-turned-professionals to adapt, incorporate and apply its concepts to the problem at hand.
What is your academic focus?
My research addresses the heterogeneities and uncertainties associated with both present and future effects of climate change.